BrineGo: Modular Membrane Concentrator
Modular membrane concentrator for ultra-high recovery and volume reduction
Achieve ultra-high recovery and volume reduction with BrineGo — a modular membrane concentrator (MMC). Overcome scaling limits and reduce wastewaters to their minimal possible volume with a complete system based around reverse osmosis technology. BrineGo plants are assembled from Saltworks' standardized brine management blocks, custom arranged for your needs.
RO-Based Concentrator System
Leverage standardized skids of 600 or 3,000 m3/day each, incorporating our BrineRefine scaling ion removal technology and XtremeRO ultra-high recovery reverse osmosis systems.
Achieve effective water management and brine volume reduction in a fully packaged plant.
Start saving on operating costs today by reducing expensive off-site disposal volumes.
Saltworks will provide you with a turnkey comprehensive system, optimized for your water and site.
Process Block Components
The system is built from repeating units of five sub-systems (shown to the left), arranged in a treatment train defined by your project needs.
Saltworks' BrineRefine is packaged in 600 or 3,000 m3/day blocks to pre-condition the water for downstream RO.
Two Saltworks' XtremeRO models achieve the brine volume reduction:

XtremeRO 1200: 1,200 psi (80 bar) – 80K mg/L TDS brine
XtremeRO 1800: 1,800 psi (120 bar) – 130K mg/L TDS brine

Our intelligent process engineering, ScaleSense real-time ion sensor, and total system controls tie the plant together for optimal operation.
Run a free project assessment today or get into details with a starter package that includes real water testing and detailed plant package development.
 
XtremeUF ceramic ultrafiltration removes oils, grease, precipitated by-products, particulate, microbes, and suspended solids.
BrineRefine is a continuous stirred tank reactor (CSTR) that executes diverse chemical reactions efficiently and with precision.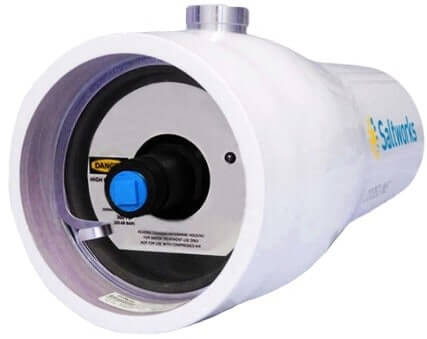 XtremeRO maximizes recovery & minimizes brine for tough industrial wastewaters. Our UHP RO delivers the highest recovery in the industry.
Article
With the growing importance of brine management, modernized chemical softening systems can enable economic ultra-high recovery reverse osmosis, minimizing RO brine volume, disposal costs, and reliability risks.