Reduce ammonia to achieve discharge compliance or reduce load on downstream biological processes
Reduce the ammonia in your wastewater while only treating as much as you need to. Saltworks can help you to remove ammonia load, to keep your discharge compliant or ease the burden on your downstream biological process.
Don't Treat the Full Flow
Ammonia projects present unique challenges. Saltworks can use selective ammonia removal to help you to manage your ammonia load. Our solutions ease the burden on your downstream processes such as biological ammonia treatment or your discharge point.
Our experts will improve your process for superior economics, better risk management, and treatment outcomes. 
Ammonia Stripping
Depending on your project needs, you could benefit from an ammonia stripper process, or from upgrading an existing stripper. Stripping ammonia produces a concentrated ammonium sulfate solution (~35%). This involves a high pH stripping tower that removes ammonia, which is then absorbed in a low pH scrubbing tower. The solution may be:
Used directly in agriculture if shipping distances are small
Crystallized to produce solids in a SaltMaker, which can be stored and shipped for re-use
Sent to a smaller "ammonia only" biological process for destruction
 
Ammonia Peak Shaving Options
Stripping does not fit every project. Sometimes other options or combinations make sense, including:
Concentration of ammonia wastewater via a low pH reverse osmosis process. Employ XtremeRO to concentrate ammonia wastewaters to over 130,000 mg/L total dissolved solids (TDS).
If your ammonia exists as ammonia bicarbonate, without high organics, we may be able to concentrate and crystallize ammonia bicarbonate without the need for a stripper, saving significant costs and avoiding chemical consumption.
Electrochemical destruction of ammonia, which due to high power loads may only be optimal at small scale or with low cost off-peak power.
We can help you work through your Ammonia Peak Shaving options, improving your treatment outcomes and economics. Contact us with your wastewater details, treatment goals, and flow rates.
Achieve true ZLD with two forced circulation evaporative crystallizer options: SaltMaker MVR and SaltMaker MSF.
Open-to-atmosphere evaporator, operating at low temperatures to concentrate brine.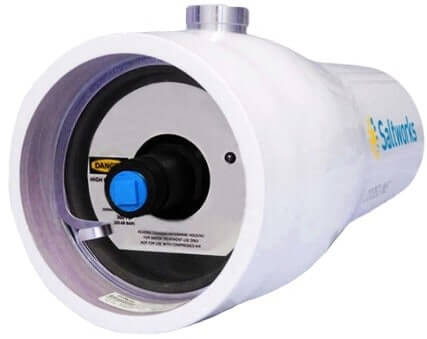 Our UHP RO minimizes brine from tough industrial wastewaters and delivers the highest freshwater recovery in the industry.
Application
There is no one-size-fits-all solution to removing ammonia from wastewater. Saltworks can help you understand your options, including hybridizing solutions with biological treatments to boost capacity and reliability, or provide entirely non-biological pathways.