Measure and treat sulfates in water flows
Many industrial processes produce or depend on sulfates. Sulfates can be regulated in some discharges and require cost-effective management. Saltworks can help you to monitor and moderate sulfate levels in wastewater flows. 
Sulfate Challenges
Sulfates are of concern in many industrial processes such as those in mining, oil & gas, fertilizer production, pulp & paper, and more. Although not generally very dangerous to humans, high sulfate levels are often regulated to protect the environment.
Sulfates can be targeted for removal, without needing to treat all of the dissolved mass contained within an entire flow, lowering costs.
For seasonal sulfate challenges, chemical precipitation treatment may keep capital investment low, with the operating costs of chemicals being present only for a part of the year. If the challenge is year-round, and there is a low-cost disposal option for a sulfate-rich brine, sulfate-rejecting membrane solutions may make more sense. We can help you to make informed choices with economic analysis provided for all of the possible options.
Robust Sensors
Measuring sulfate ions in real-time enables targeted treatment and process optimization. Saltworks can provide automated, real-time sensors for sulfate ions. This live data can then be used to optimize a sulfate treatment process through:
Bypassing a portion of the flow around the treatment plant, and blending to meet a treatment goal
Treating to the right level, and not over-treating, resulting in excessive chemical waste, sludge generation, or brines
ScaleSense sulfate sensor was specifically developed to work with the toughest waters including high total dissolved solids (TDS) >50,000 mg/L.
BrineRefine
Sulfates can be precipitated by adding low solubility counter ions such as barium or calcium. Our BrineRefine system performs chemical precipitation in a smart, automated way to prevent overdosing. If inlet water chemistry changes, so does chemical dosing. BrineRefine enables smart selective precipitation and is:
Automated with simple solids management, avoiding coagulation, flocculation, and large clarifiers.
Free of coagulants or flocculants; no chemicals are added that could foul a downstream RO.
Compact; BrineRefine eliminates the need for large reaction vessels and clarifiers.
Designed and factory-built in container skids for modularity, redundancy and scalability.
Larger capacity site-built units are also available, which can incorporate site ponds as treatment reactors, further reducing capital costs.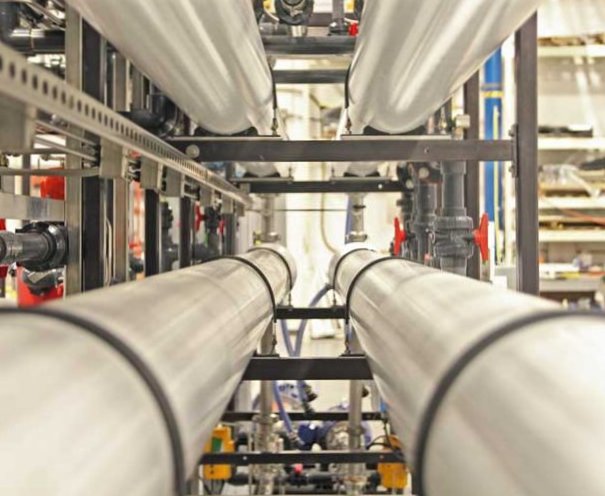 Membrane Solutions
Nanofiltration (NF) is a cousin of reverse osmosis (RO), which rejects multivalent ions such as sulfates, while allowing monovalent ions to pass through. This limits total dissolved solids (TDS) mass load in the brine and can save brine management costs. Saltworks provides intelligent NF or RO sulfate treatment solutions in our XtremeRO product family—and also provides solutions for liquid reject.
Contact us to learn more about our solutions and options.
ChilledCrys concentrates water and extracts salt. It achieves energy savings by avoiding evaporation.
BrineRefine is a continuous stirred tank reactor (CSTR) that executes diverse chemical reactions efficiently and with precision.
Our UHP RO minimizes brine from tough industrial wastewaters and delivers the highest freshwater recovery in the industry.
Product
SulfateSelect removes sulfates from wastewater, in some cases without brine by-products, thereby removing the expense of brine management. We offer a suite of sulfate processes, leveraging industrialized unit operations, arranged for cost effective and intelligent optimized operation.