Semiconductors and Electronics Manufacturing
Water solutions for the semiconductor industry
The manufacturing of semiconductors and electronics generates unique wastewaters. Saltworks can help you to manage wastewater flows from microelectronics production, targeting ammonia, metals, and ions for removal, reducing brine waste, and allowing water reuse.
Semiconductors and Water
High purity water for washing and etching processes is essential to the production of microelectronics. The wastewater produced often contains both organic solvents and inorganic contaminants. Saltworks can help with these challenges, including:
Reducing ammonia loads in biological processes & optimizing stripper scrubbers
Precipitating fluoride from etching wastewater.
Reducing particulate to a low level using robust, ceramic ultrafiltration.
Selectively precipitating metals for removal in a compact plant with intelligent automation.
Brine Management such as recovering water from reverse osmosis brine and ion exchange resin regeneration waste.
Fluoride
The silicon microelectronics industry uses hydrofluoric acid (HF) etching, producing fluoride-rich wastewater. Chemical precipitation and coagulation are used to treat fluoride.
Saltworks' BrineRefine robotizes chemical reactions to improve operations while reducing footprint. BrineRefine uses intelligent automation—with optional ion-specific sensors—to dose chemicals precisely, accepting variability on the inlet flow: reducing chemical and sludge disposal costs.
XtremeUF, our robust ceramic ultrafiltration system, removes precipitate and other particulate, producing a high-quality filtrate in a small footprint. Clarifiers can also be partnered with BrineRefine.
Metals
Heavy metals such as arsenic (As), nickel (Ni), and cobalt (Co) can also be removed with our BrineRefine solution. Production of amorphous solids from these processes requires a high rate of slurry thickening and pressing to ensure sound water recovery and economics.
BrineRefine's built-in XtremeUF system can concentrate slurries to the extreme, reducing the load on filter presses and operators, thereby reducing costs. 100% water recovery can be achieved, with the only waste being a minimized solid filter cake.
See our IonSelect solutions to learn more about our selective contaminant removal solutions.
Ammonia
Biological treatment and/or stripper scrubbers are widely used in ammonia wastewater treatment. Biological treatment can produce harmless nitrogen gas, while stripper scrubbers manufacture a rich ammonium sulfate solution, which can be blended into fertilizer.
Ammonia presents unique challenges with many pathways to its removal. Treatment choices are largely determined by the economics of the ammonia post-removal (destruction, reuse, transport).
Saltworks can facilitate or optimize treatments by:
Reviewing your ammonia problem and developing a matrix of comparative options, including costs
Concentrating ammonia wastewaters with XtremeRO
End-to-end ammonia strip, scrub, & crystallize solutions
Boosting stripper-scrubber capacity by extracting ammonia from the scrubber circuit, increasing absorption capacity
Crystalizing ammonium sulfate using our SaltMaker evaporative crystallizers
Removing ammonia load through novel processes using off-the-shelf unit operations specific to your water
Converting to nitrogen gas via chemical or electrochemical methods
Brine Management
Saltworks' brine management solutions can produce clean water from reverse osmosis brines, ion exchange regeneration wastes, and other concentrated saline waters. Our experts can help you to understand your brine minimization options, and the costs involved in taking each incremental step.
For membrane systems, we can maximize recovery from various microelectronics brines and wastewaters with our ScaleSense real-time ion-specific sensors, or our XtremeRO brine concentrator.
After membrane system recovery has been optimized, our thermal desalination solutions from the SaltMaker family of modular, fully packaged industrial evaporator-crystallizers can help you to achieve minimal (MLD) or zero liquid discharge (ZLD). Waste heat-driven options are available.
Contact us to learn more about our solutions for microelectronics wastewaters.
XtremeUF ceramic ultrafiltration removes oils, grease, precipitated by-products, particulate, microbes, and suspended solids.
BrineRefine is a continuous stirred tank reactor (CSTR) that executes diverse chemical reactions efficiently and with precision.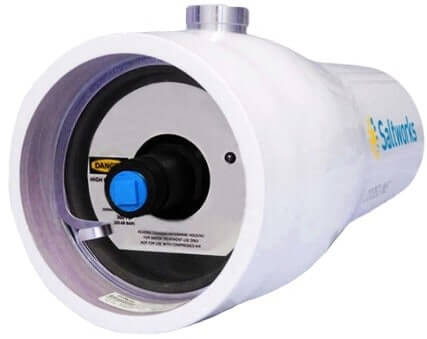 Our UHP RO minimizes brine from tough industrial wastewaters and delivers the highest freshwater recovery in the industry.
Application
Saltworks delivers reliable solutions for data center cooling that maximize uptime and energy efficiency while helping meet water sustainability goals. Our modular, low footprint systems can optimize cooling cycles, reduce scaling, and minimize wastewater disposal volumes.