Recovery and reuse of pulp & paper wastewaters and chemicals
Saltworks' wastewater treatment team helps with wastewater challenges such as biochemical oxygen demand, total suspended solids, residual bleaching agents, sodium sulfate recovery, and more.
Pulp & Paper Wastewater
Water is an essential ingredient to the pulp and paper industries. Wastewater from pulp and paper processes may face regulatory scrutiny due to risks to aquatic life.
Wastewater concerns may include:
residual bleaching agents, such as hydrogen peroxide
reducing consumption by increasing water reuse
total suspended solids (TSS) and turbidity
biochemical oxygen demand (BOD/COD)
organics (especially organochlorides)
ammonia/nitrogen
sodium sulfate.
Expertly Optimized RO 
Reverse osmosis (RO) concentrates waste streams for disposal and recovers fresh water for processing. We can help you get the most out of RO with a suite of products that maximize performance, cost-effectiveness, and longevity:
BrineRefine scaling ion removal with precision automated chemical dosing
Highly robust XtremeUF ceramic ultrafiltration for organics and particulate removal
XtremeRO brine concentration systems available in three pressure classes to meet your recovery needs
Dynamic recovery control with our ScaleSense sensors to optimize recovery in real time as water conditions change
Our SaltMaker evaporator crystallizer range further concentrates brine to minimal or zero liquid discharge (MLD or ZLD)
SaltMaker ChilledCrys withdraws dissolved sodium sulfate as a solid, suitable for reuse.
Saltworks Can Help
Saltworks' experts can help you to understand your options, including treatment, discharge regulations, and economics.
To decide on an appropriate and cost-effective treatment process, it is critical to know the wastewater chemistry in detail and understand the treatment goals and capacity needs.
Saltworks can review water chemistry and specific project requirements so that a treatment process is chosen that balances simplicity, cost-effectiveness, and reliability. Contact us for project reviews, water testing, pilots, and more.
XtremeUF ceramic ultrafiltration removes oils, grease, precipitated by-products, particulate, microbes, and suspended solids.
BrineRefine is a continuous stirred tank reactor (CSTR) that executes diverse chemical reactions efficiently and with precision.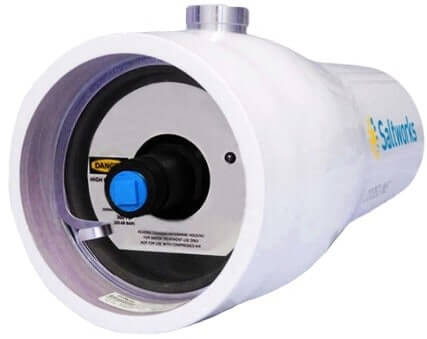 XtremeRO maximizes recovery & minimizes brine for tough industrial wastewaters. Our UHP RO delivers the highest recovery in the industry.
Article
This article introduces a new type of ceramic membrane system and explains how it opens the application range. An example of treatment of oil and grease in produced water is provided.